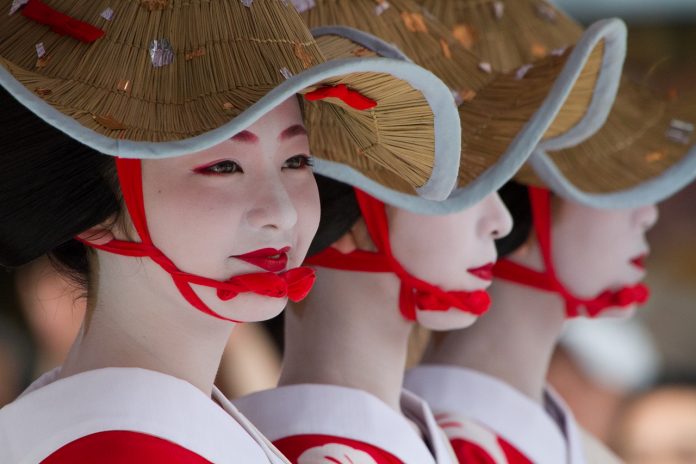 Salah satu hotel prestisius di Tokyo, Keio Plaza Hotel Tokyo yang berlokasi di Shinjuku, menggelar pameran istimewa yang bertajuk The Traditional Beauty of Kyoto Supporting Geiko and Maiko Culture. Pameran yang digelar dari 3 Oktober-9 November 2018 berlokasi di Art Lobby di lantai tiga hotel. Ekshibisi The Traditional Beauty of Kyoto Supporting Geiko and Maiko Culture digelar untuk memperkenalkan payung tradisional – hanagasa, kipas, dan berbagai properti ikonik yang biasa digunakan geiko (seniman penghibur tradisional Jepang) dan maiko (seniman perempuan yang mengabadikan hidupnya untuk kebudayaan Jepang dengan hidup melajang) dalam penampilannya.
Pengunjung dapat pula menyaksikan potret suasana dari musim ke musim di distrik hiburan Gokagai, Tokyo yang kaya akan budaya Jepang yang autentik. Turut pula dipajang cetakan woodblock yang dibuat seniman Masao Ido yang menunjukan Kyoto dari berbagai musim. Tak hanya menampilkan koleksi seni, ekshibisi ini akan menampilkan pertunjukan seni pada 25 Oktober 2018, yaitu penampilan dari Komaya Geiko House dari Miyagawacho yang akan mendemonstrasikan penampilan khas geiko dan maiko. Kesempatan unik ini akan berlangsung di lobi hotel pukul 16:00. Sebagai tambahan, Keio Plaza Hotel Tama dan Keio Plaza Hotel Hachioji akan memamerkan varian keramik dan kerajinan tangan tradisional Kyoto yang akan dipamerkan antara 3 Oktober-8 November 2018.
Ekshibisi ini tak lengkap tanpa adanya presentasi mengenai sejarah dan gaya hidup para geiko yang akan dipaparkan oleh Keiko Sumii, Presiden Komaruya, perusahaan bersejarah yang memproduksi kipas berornamen dan properti lainnya yang biasa digunakan para geiko dan maiko sejak zaman dulu. Setelah presentasi, para tamu akan disuguhi jamuan makan siang kreasi Chef Executive Hiroshi Ichikawa, lengkap dengan penampilan seni dari geiko dan maiko.